Interview with Gantuya Badamgarav, the curator of Mongolia Pavilion at the 59th International Art Exhibition of La Biennale di Venezia
LO SCIAMANESIMO E IL NOMADISMO SONO PRATICHE SPIRITUALI E SOCIALI ANCORA OGGI MOLTO VIVE IN MONGOLIA. IN CHE MODO QUESTO SI RIPERCUOTE SULLA PRATICA ARTISTICA? CE LO HA SPIEGATO GANTUYA BADAMGARAV, CURATRICE DELLA MOSTRA A JOURNEY THROUGH VULNERABILITY ALLA BIENNALE DI VENEZIA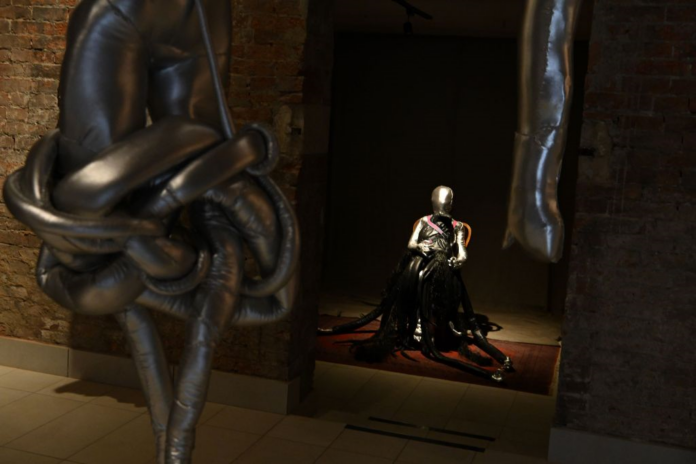 Si intitola A Journey Through Vulnerability la mostra di Munkhtsetseg Jalkhaajav (Mugi), che rappresenta la Mongolia a Venezia. Confermato anche quest'anno l'approccio curatoriale che aveva caratterizzato le precedenti edizioni, fortemente legato alla spiritualità della cultura di questo affascinante popolo. Gantuya Badamgarav, fondatrice della Mongolian Contemporary Art Support Association e curatrice del Padiglione Mongolia, ci spiega il concept del progetto.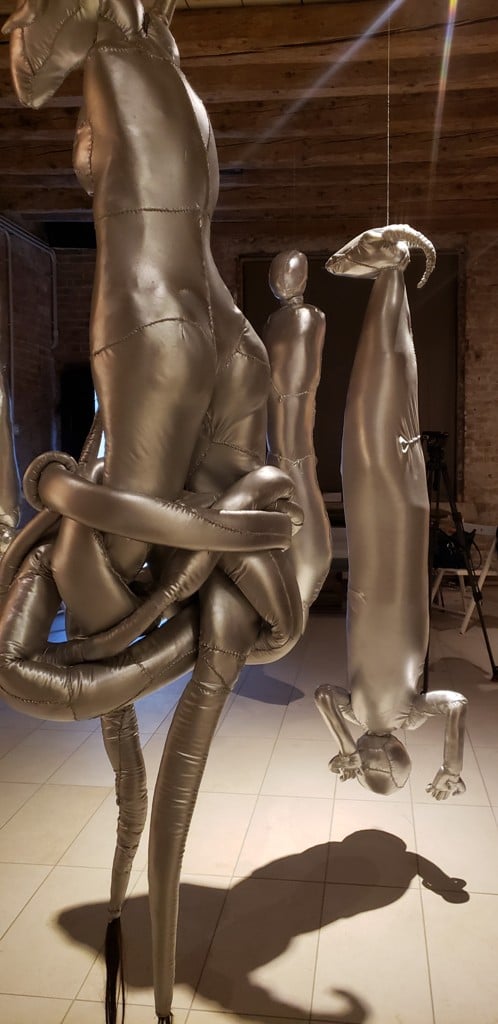 Quanto è forte il concetto di spiritualità nella cultura mongola contemporanea?
Poiché i tabù sociali e le censure sono finiti nel 1990 con il crollo del socialismo, le nostre antiche tradizioni e la nostra cultura hanno suscitato un rinnovato interesse tra le diverse generazioni. Il buddismo è riemerso per primo, poi è rinato anche lo sciamanesimo. Oggi vedo un crescente interesse per le antiche filosofie, per la sapienza astrologica, per la natura, e per pratiche spirituali e stili di vita sostenibili. Molti nostri artisti contemporanei traggono ispirazione dal buddismo e lo sciamanesimo per le loro opere. Tuttavia, quando si parla di spiritualità, non si può sempre collegarla alla religione: a mio avviso, una spiritualità è un processo di autorealizzazione, sempre molto personale. Ho sempre creduto che il potere dell'arte si basasse sul suo valore spirituale.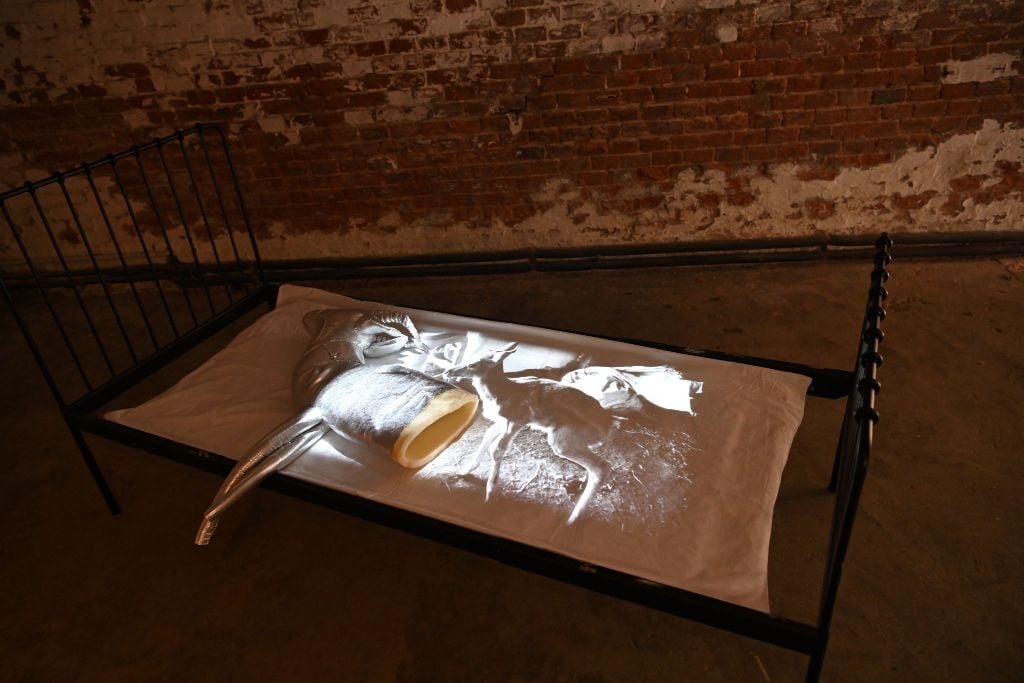 Come ha concepito il Padiglione?
La mostra A Journey Through Vulnerability di Munkhtsetseg Jalkhaajav presenta sculture, una video installazione e opere su carta distribuite in tre sale. La prima, intitolata Dream of Gazelle, riproduce una stalla che accoglie una gazzella, in parte scolpita, in parte su proiezione multimediale; la seconda sala, Pulse of Life, riflette il concetto di "corpo cosmico", termine che l'artista ha mutuato dal concetto buddista di samsara, secondo cui tutte le particelle e gli organismi viventi costituiscono un unico universo. Per significare quest'idea di totalità, Mugi ha realizzato sculture ibride a metà tra uomo e animale. Nell'ultima sala, Miscarriage, l'artista espone Keeper of Protector Bird, che omaggia i tradizionali incantesimi degli sciamani per proteggere le donne dall'aborto spontaneo. L'intera mostra esplora il concetto di samsara, compassione e guarigione, ed è accompagnata da una colonna sonora da appositamente ideata dal musicista Davaasuren Damjin suonando uno scacciapensieri, il cui suono ricorda quei tradizionali rituali di interazione con le anime trapassate, che espandono la consapevolezza spaziale e spirituale.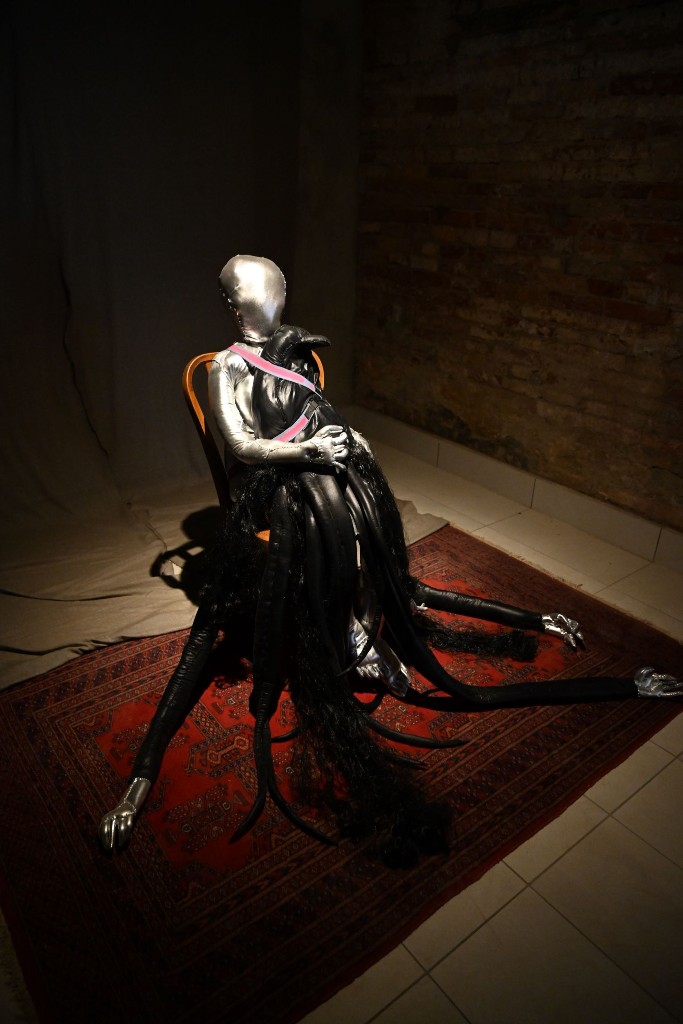 Qual è l'aspetto più interessante dell'arte contemporanea mongola?
Tutte e quattro le edizioni del Padiglione sono in qualche modo legate alla cultura nomade, allo sciamanesimo e al buddismo. La Mongolia è una delle ultime nazioni al mondo dove lo stile di vita nomade è ancora una tradizione viva. Siamo un popolo mentalmente e spiritualmente molto legato alla cultura antica e gli artisti usano spesso elementi delle tradizioni sciamaniche e nomadi nelle loro pratiche, apprezzando il sapere dei loro antenati a un livello molto profondo. Molti aspetti della nostra tradizione sono ancora praticabili, potrebbero anche essere elementi per un futuro sostenibile, e i nostri artisti ne sono consapevoli. Penso che l'arte mongola abbia tanto da offrire al mondo e meriti attenzione ed è molto importante per i nostri artisti essere presenti su scenari internazionali come la Biennale di Venezia, per condividere le loro visioni, imparare da quelle altrui e aumentare le proprie conoscenze.
– Niccolò Lucarelli
Source: https://www.artribune.com/arti-visive/arte-contemporanea/2022/05/padiglione-mongolia-biennale-venezia-intervista-curatrice/?fbclid=IwAR2ZrM83lqnfOOZrc2gY6J1fwAZp1nHCl4zoEaiIfuEorQmh5ewJ3vl2vcM