Rhizomic Space, a nomadic space by Chyanga(Qin Ga) highlights Mongolia Pavilion
蒙古国馆
MONGOLIA PAVILION
第 59届威尼斯双年展
at the 59th International Art Exhibition – La Biennale di Venezia
A Journey Through Vulnerability
穿越脆弱的旅程
The fourth appearance of Mongolia at the International Art Exhibition of La Biennale di Venezia features Munkhtsetseg Jalkhaajav (Mugi), one of the foremost figures of contemporary art in Mongolia. During her long-distinguished career, Mugi (b.1967) has significantly contributed to the growth of Mongolian contemporary art and has exhibited locally and internationally.

今年第59届威尼斯双年展上,蒙古国馆展出了蒙古当代重要艺术家孟和琪琪格·扎拉哈扎布的作品,这是蒙古国第四次参加威尼斯双年展。1967年出生的她对蒙古国当代艺术发展有着突出贡献,作品多次在蒙古国内外展出。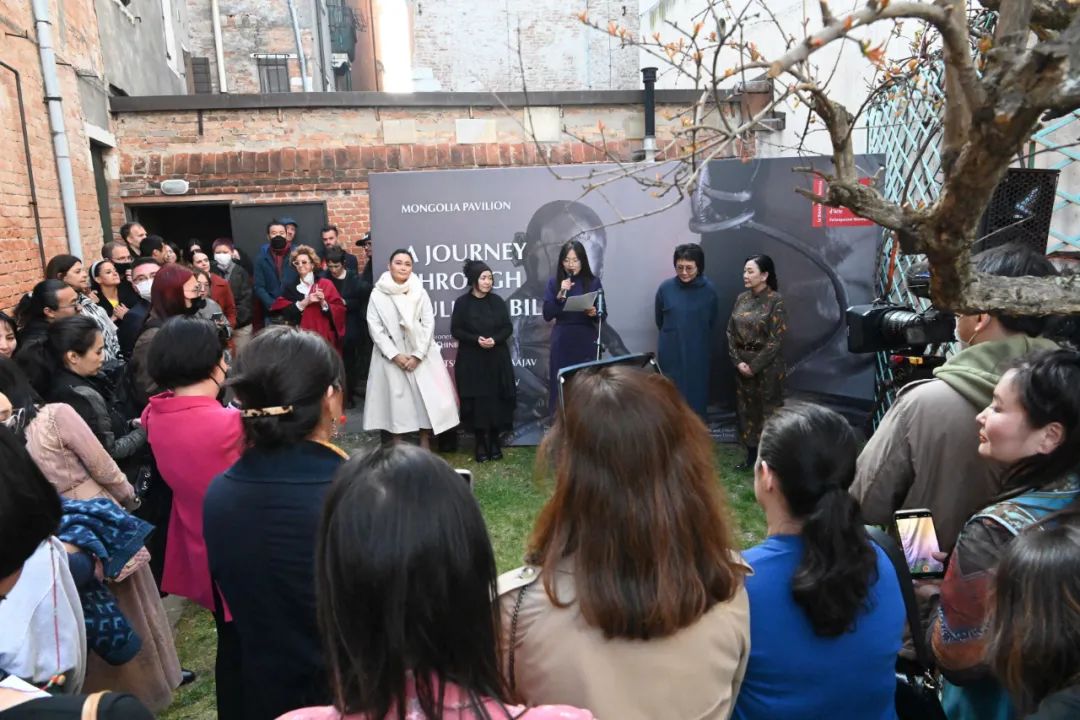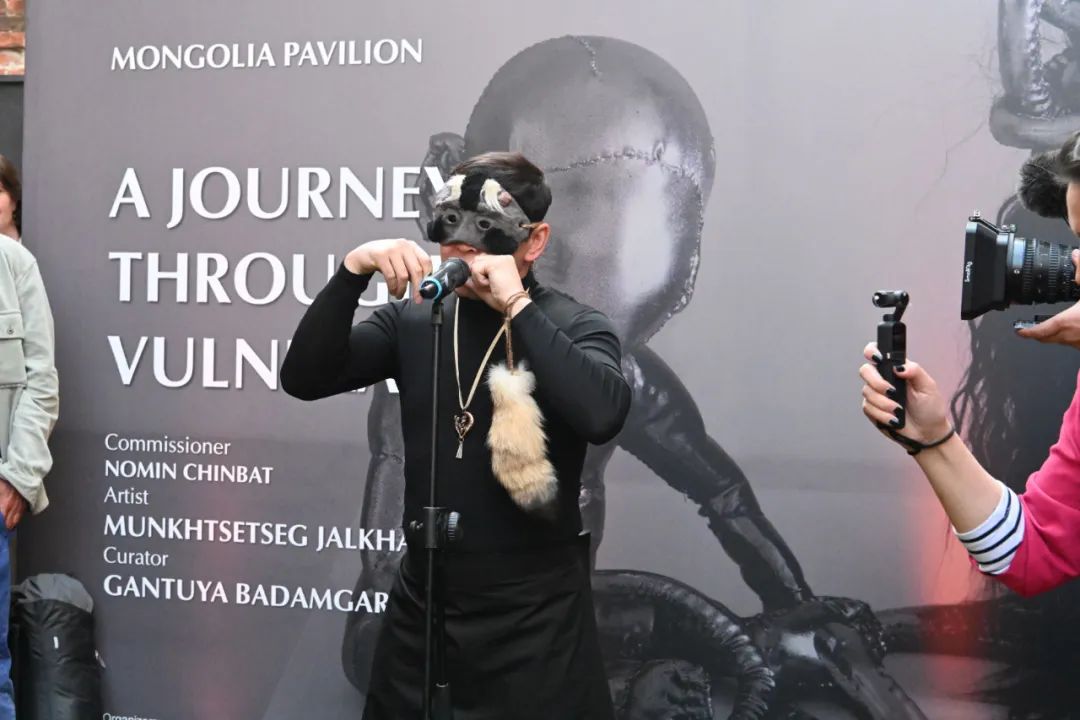 Mugi's artistic practice incorporates sculptures, paintings, videos, and performances and explores the notion of pain, fear, healing, and rebirth. Mainly reflecting her personal experiences, Mugi's work investigates the complexities of female bodies, minds, and souls, and the connection with one-self and nature, capturing the tensions between different realms. Seemingly fictional yet grounded, her unique works embody invisible forces, such as spirits and myths, and tell sensible stories of women, unborn children, and the sorrowful fates of animals.
孟和琪琪格·扎拉哈扎布的创作融合了雕塑、绘画、影像和行为等多种媒介,作品涉及痛苦、恐惧、疗愈、重生等主题。通过对个人经历的反思,她的作品探讨女性身体、思想、灵魂、自我与自然关系的深层复杂性,捕捉其中的张力。这些作品极具特色,看似虚构却根植于现实,蕴含了魂灵和神话等无形的自然力量,诉说着女性、未出生的胎儿和动物的不幸命运。

Inspired by Mongolian traditional healing methods and spiritual therapy, the process of her artistic creation is deeply intuitive and ritual-like. Through embodiments of the subject matter that evoke strong sentiments and juxtapositions of symbolic elements used for healing and protection, she meditatively examines the nature of her own anxiety and the process of its healing. Her particular ways of tearing, cutting, collating and stitching imply pain, anxiety, fear, hope and patience and create a specific language that allows Mugi to articulate and manifest her inner feelings and visions. In her works, birds represent the pulse of life, pregnancy, healing and protection, whereas female bodies represent her constant search for inner strength. The concept of reincarnation is the foremost interest of her artistic journey.
受蒙古传统的疗愈方法和精神治疗的影响,孟和琪琪格·扎拉哈扎布的艺术创作过程具有强烈的直觉性和仪式感。通过给人带来强烈震撼的主题呈现方式和蒙古文化特有的疗愈和护佑的象征元素的并置,艺术家反思个人经历的焦虑的本质及疗愈的过程。撕扯、切割、整理和缝合,每一个动作都诉说着痛苦、焦虑、恐惧、希望和耐心,构成了她独特的艺术语言,清晰有力地表达出个人内心的情感和对未来的想象。在作品中,飞鸟象征着生命的节奏与脉搏、生命的孕育、疗愈和护佑,而女性的身体则成为一种隐喻,描绘着艺术家不断寻找内在力量的精神之旅。转世与再生成为艺术家创作旅程的母题。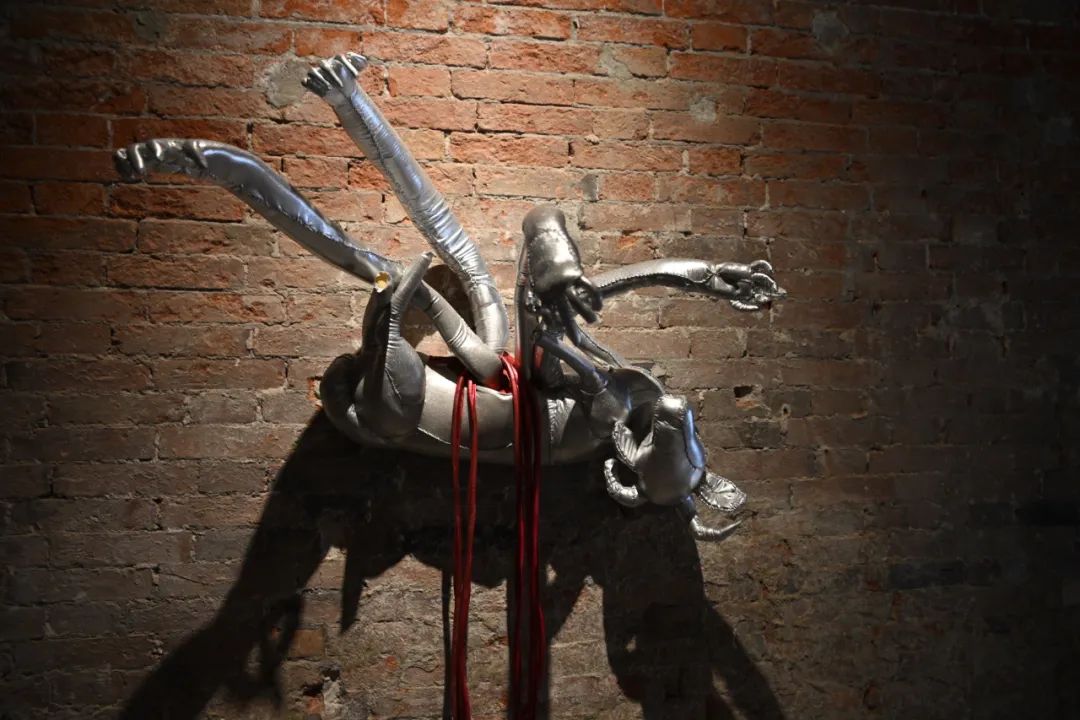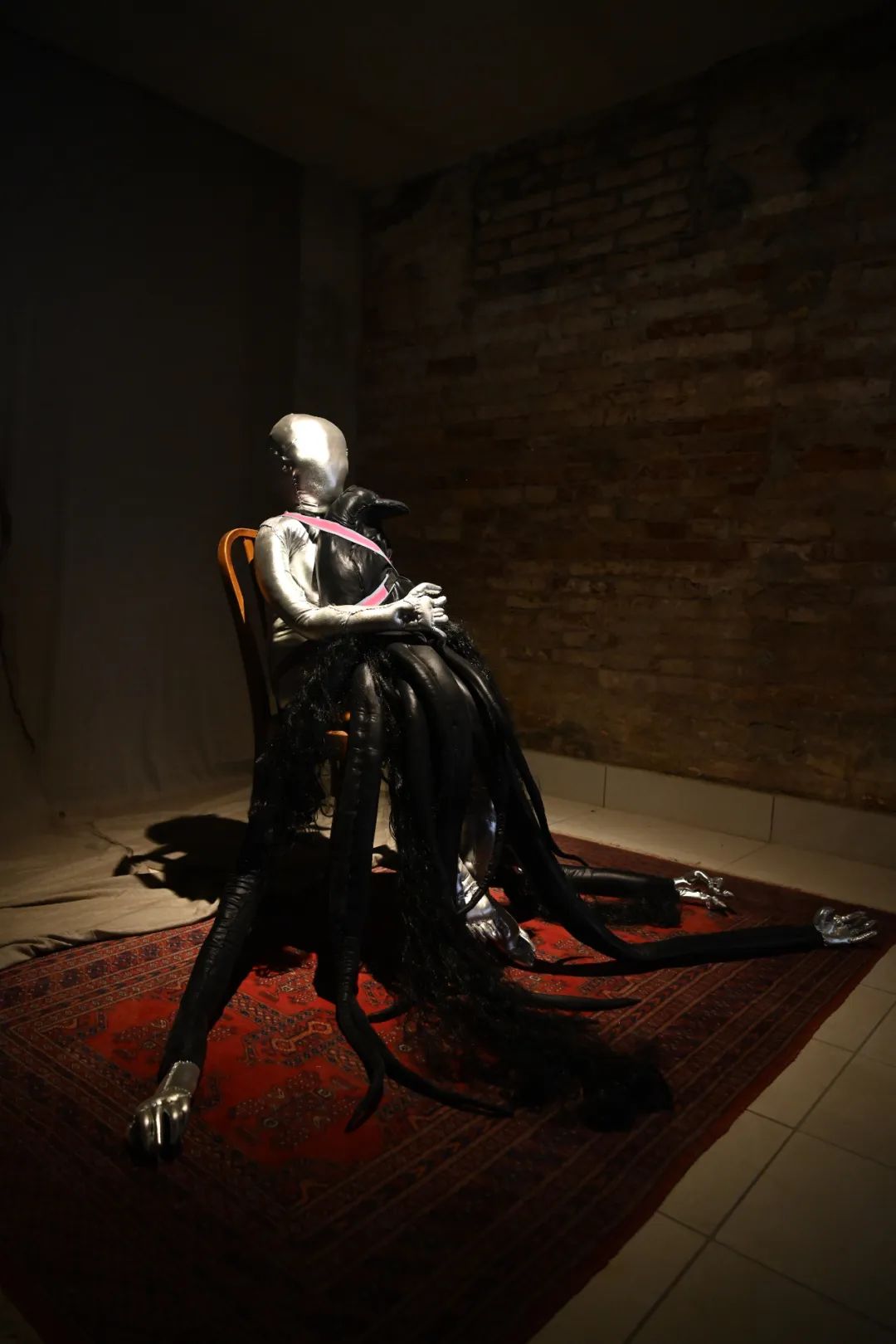 A Journey Through Vulnerability presents a series of installations, including soft sculptures, collages, video pieces, created by the artist during the last 15 years. The works are spread across three different rooms titled "Miscarriage", "Dream of Gazelle", and "Pulse of Life" and narrate stories of women and animals, offering the viewer a journey through the intimate, fragile, yet powerful world of Mugi.

"穿越脆弱的旅程"展出了孟和琪琪格·扎拉哈扎布近十五年来创作的软雕塑、拼贴和影像装置作品,分三个展厅,分别以"流产"、"瞪羚之梦"和"生命的脉搏"为题,以女性和动物为对象,讲述不同的故事,带领观众走进孟和琪琪格·扎拉哈扎布敏感,脆弱,但却又强大的内心世界。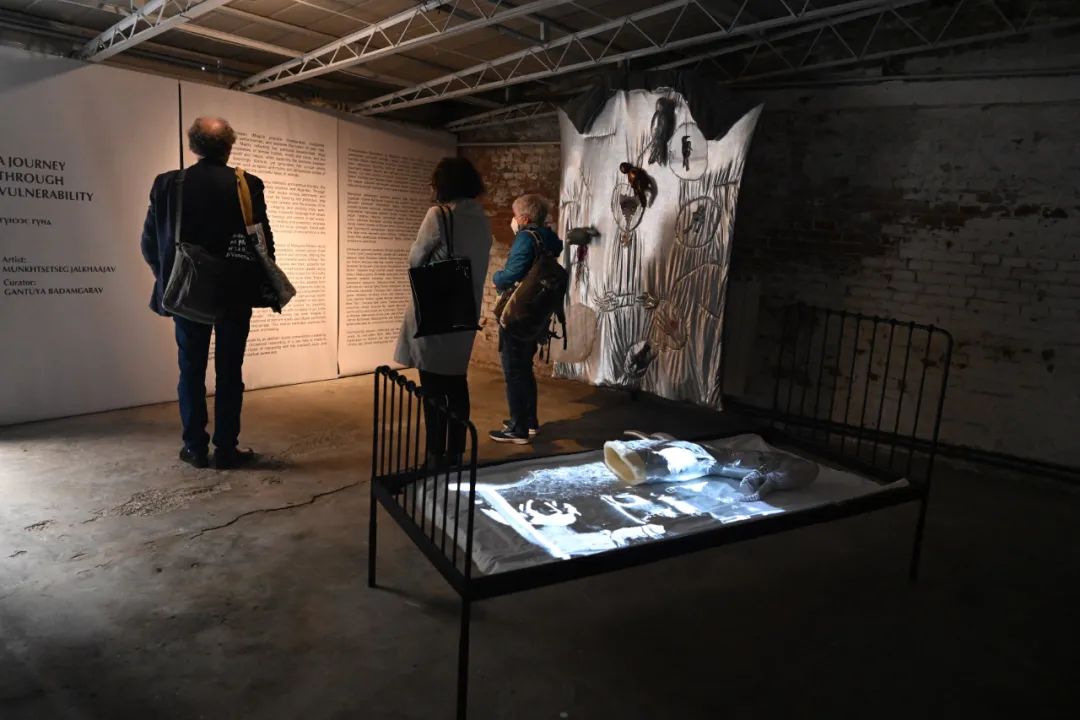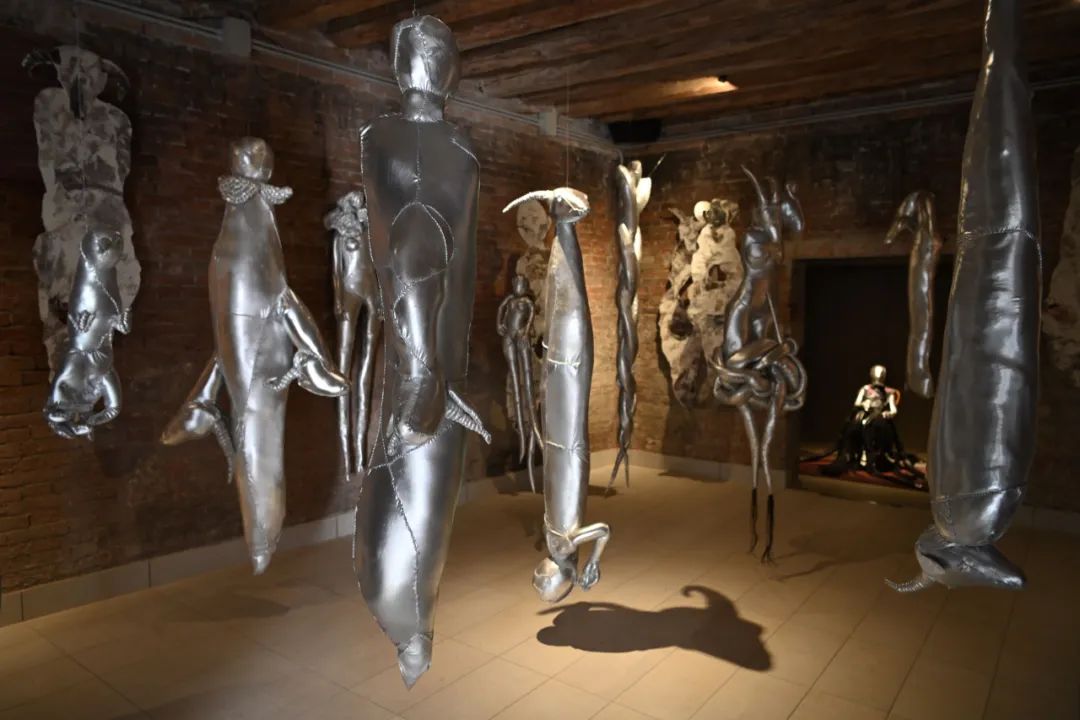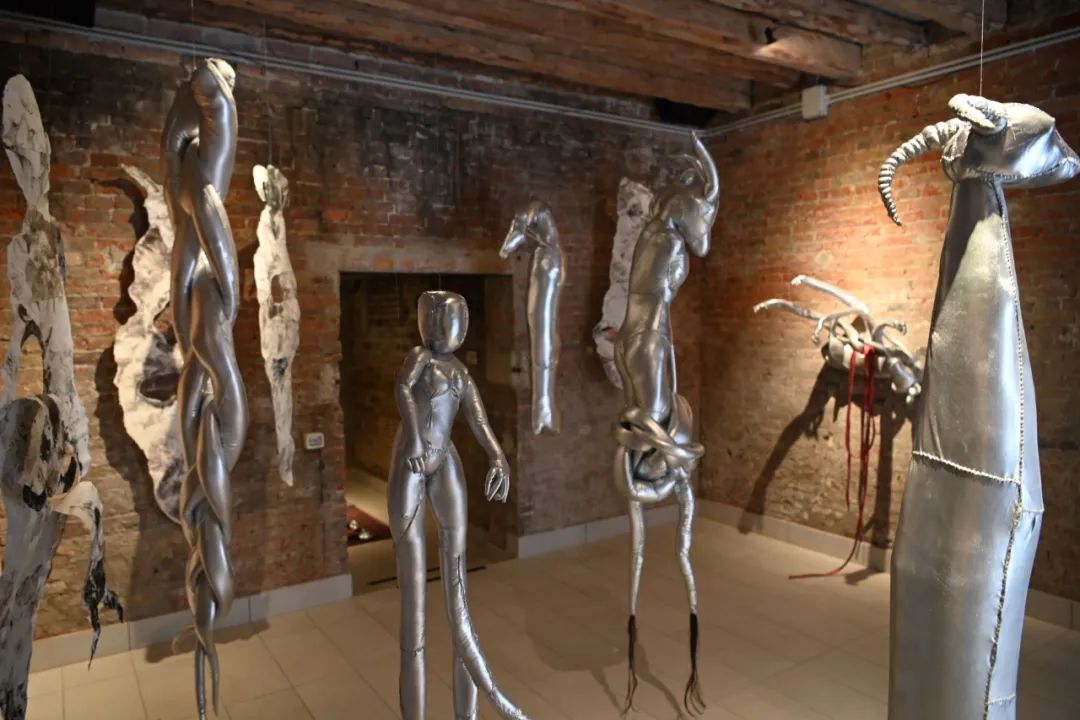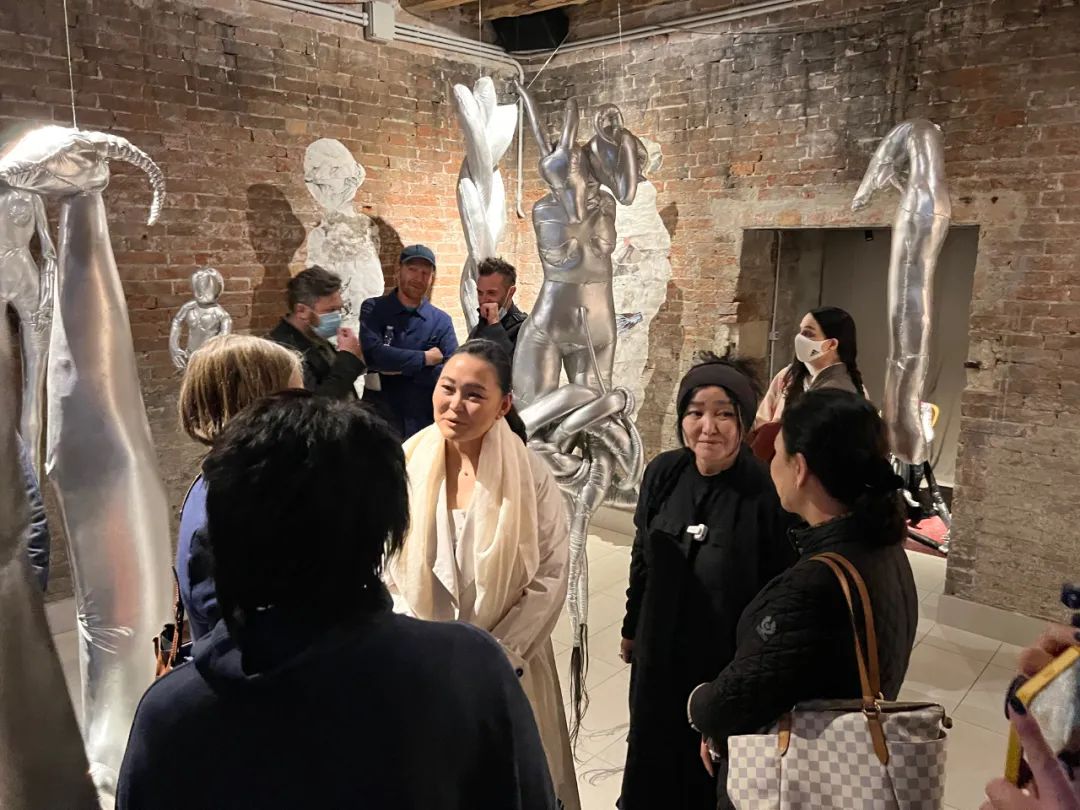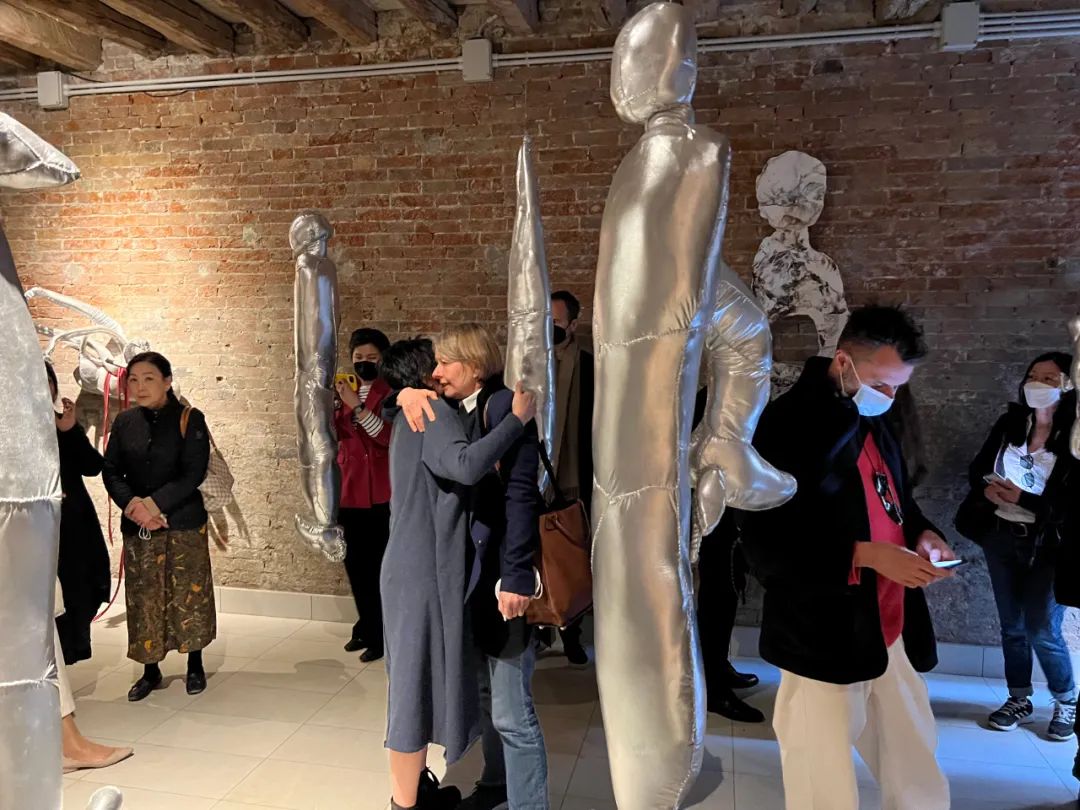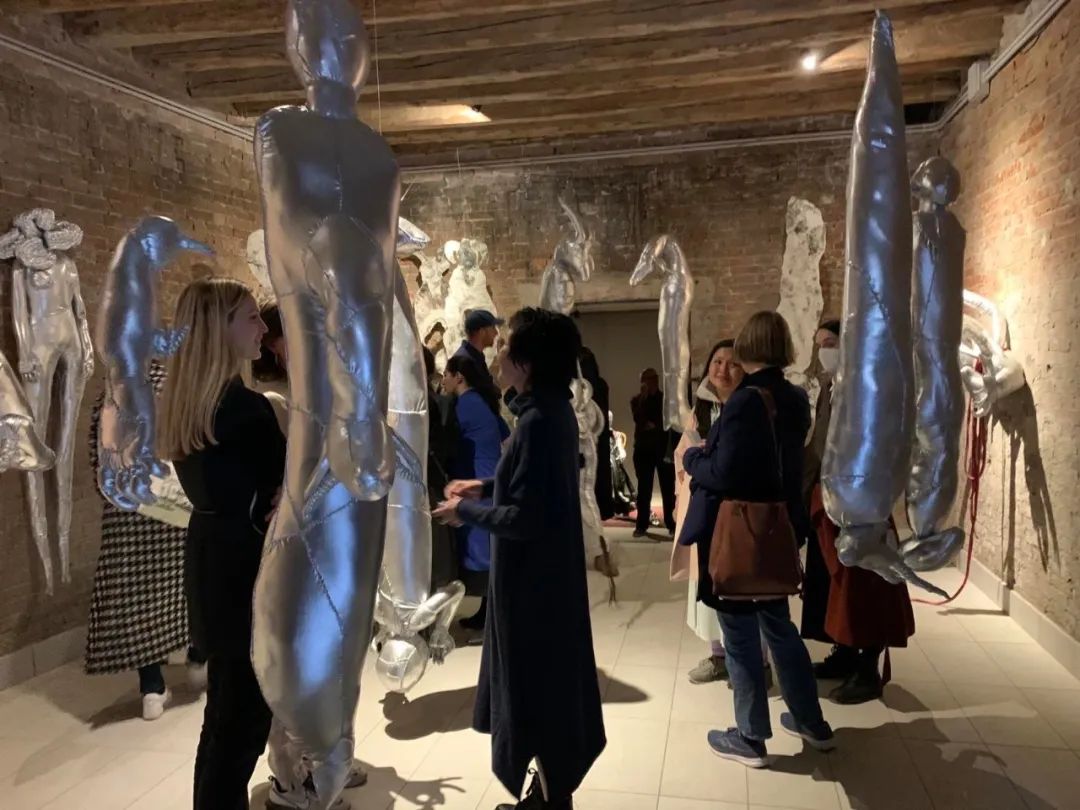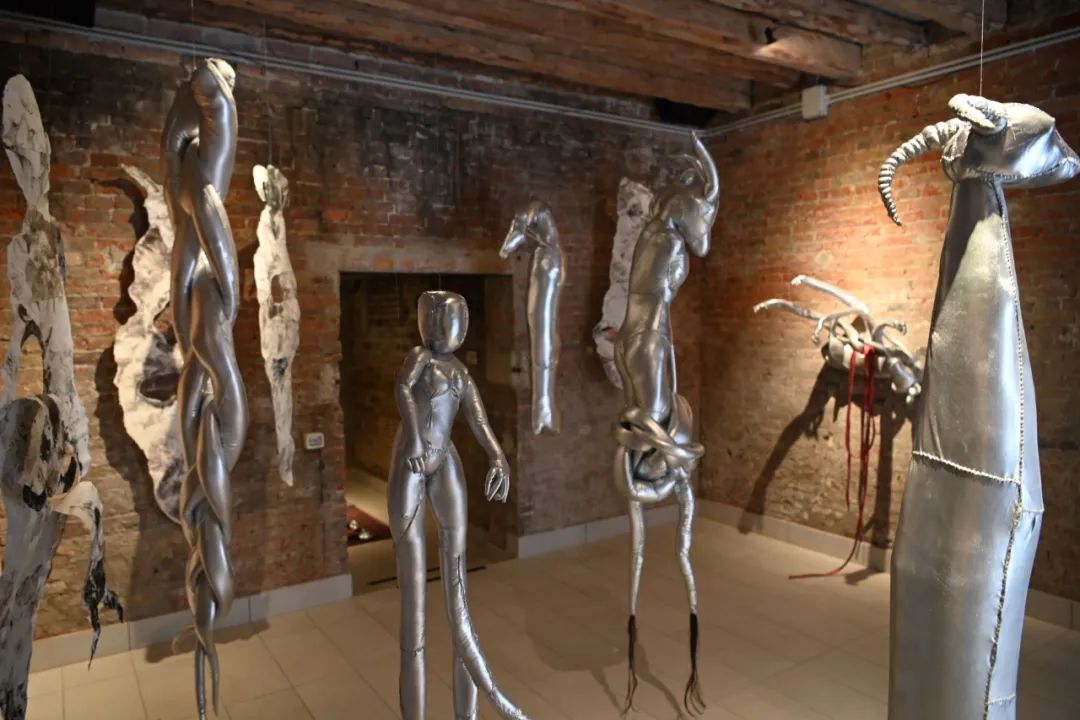 The exhibition is curated by Gantuya Badamgarav, the founding director of the Mongolian Contemporary Art Support Association. She initiated and organized Mongolia's first-ever participation at the 56th International Art Exhibition – La Biennale di Venezia in 2015, then the Mongolian Pavilion at the Biennale Arte 2017 and Biennale Arte 2019, curating the latter one. Upon the initiative led by the Minister of Culture Nomin Chinbat, 2022 Mongolia Pavilion follows a landmark decision made by the Government to ensure the continued participation of Mongolia henceforth at the International Art Exhibition of La Biennale di Venezia.
本次展览由蒙古国当代艺术赞助协会的创会理事冈图雅·巴德玛嘎日布担任策展。她发起并组织蒙古国参加了2015年第56届威尼斯双年展。接下来蒙古国于2017和2019年两次参展,其中第三次是由她担任策展人。在文化部长诺敏·钦巴图的倡议下,蒙古国政府在2022年蒙古国馆开展期间做出决定,明确未来会继续参加威尼斯双年展。
---
About Artist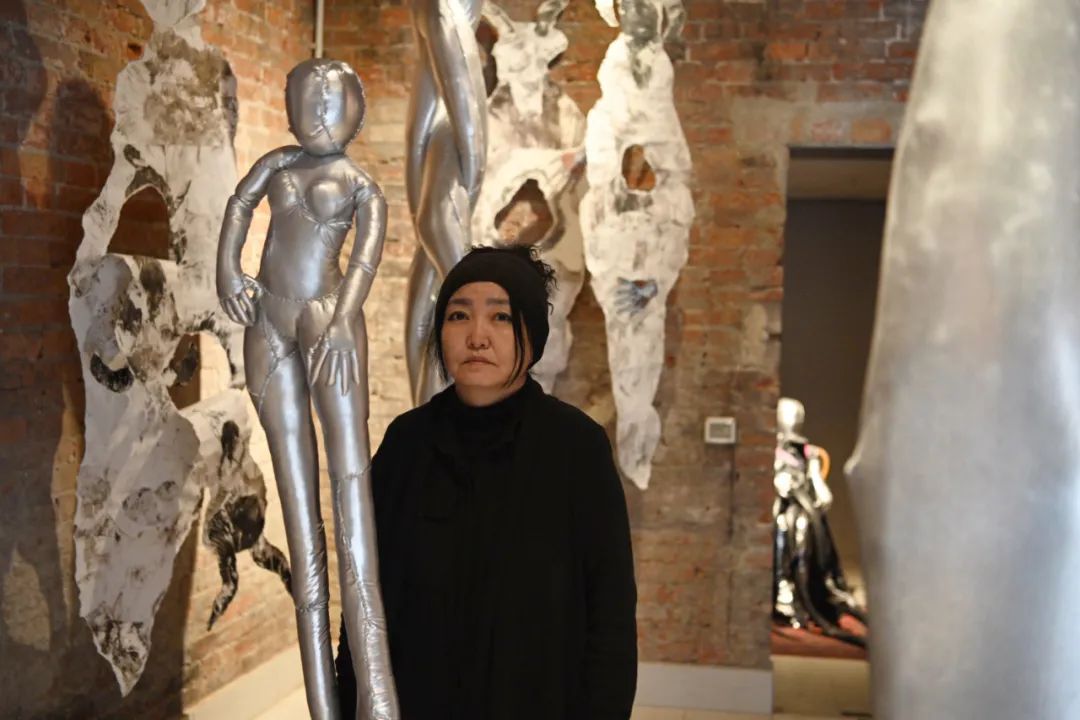 孟和琪琪格·扎拉哈扎布 ©Munkhtsetseg Jalkhaajav, 2022

Munkhtsetseg Jalkhaajav (Mugi) is a Mongolian contemporary artist, whose works range from painting to sculpture and performance to collage. Mugi was born in 1967 in Ulaanbaatar, Mongolia. She graduated from the Fine Art College, Ulaanbaatar in 1987, and currently lives and works in Ulaanbaatar, Mongolia. Between 1989 and 1992, she studied at the Academy of Fine Arts and Minsk Theater. However, she chose not to graduate because of her dissatisfaction with the curriculum under the socialist regime. "Healing" and "rebirth" are key words in her works. Through her work, she engages with our constant ambition of searching for our inner self and attempts of creating ourselves by the idea of "becoming wholesome". The aura of the her works and concepts are very much inspired by Mongolian traditions and spiritual healing. Mugi's recent solo exhibitions include A Journey Through Vulnerability, Mongolia Pavilion at the 59thInternational Art Exhibition – La Biennale di Venezia, Italy, 2022; Inner Passage or A Journey through Vulnerability at Art Space 976+ Ulaanbaatar; Healing at Toono Gallery Ulaanbaatar; Reincarnation at Personal Structures collateral in Venice Biennial 2015, Palazzo Bembo, Italy.Group exhibitions include Go Nomadic Together, Rhizomic Space, Beijing; Speaking Lights and Shadows, Art Space 976+, Ulaanbaatar; Beyond Heaven and Earth: Mongolian Art In This Day and Age, China Art Museum; Transcending Territories at Shin Thai Art Gallery, Huh Hot, China; Women In_Between: Asian Women Artists 1984 -2012, Fukuoka Asian Art Museum.
关于艺术家
孟和琪琪格·扎拉哈扎布,蒙古国当代艺术家,作品涉及绘画、雕塑、行为、拼贴等多种形式。1967年生于蒙古国乌兰巴托,1987年毕业于乌兰巴托美术学院,目前工作和生活在蒙古国乌兰巴托市。1989年至1992年在美术学院和明斯克戏剧学院学习。创作多以"疗愈"和"重生"为主题,反映现代人通过"实现身心健康"来寻找内心的自我。其艺术创作在很大程度上受到蒙古传统和精神疗愈的影响。
近期个展主要包括"穿越脆弱的旅程"(第59届威尼斯双年展蒙古国馆);"内部通道抑或穿越脆弱的旅程"(乌兰巴托976艺术空间);"疗愈"(乌兰巴托Toono 画廊);"轮回"(2015威尼斯双年展个人特邀,本博宫,意大利)等。群展包括"一起游牧"(造空间,北京);"谈光与影"(乌兰巴托976艺术空间);"天的那边:当今时代的蒙古艺术"(中华艺术宫,上海);"跨越的疆图"(艺泰空间,呼和浩特,中国);"女性媒介:亚洲女艺术家1984-2012"(福冈亚洲艺术博物馆)等。
Source: https://mp.weixin.qq.com/s/1IV91OibNzG2botKOVrvrA?fbclid=IwAR1KcnS7-hC48uDiOtEnJXYOe9VsBuj8br0CuroME8wEorBSTJNbMnjC468